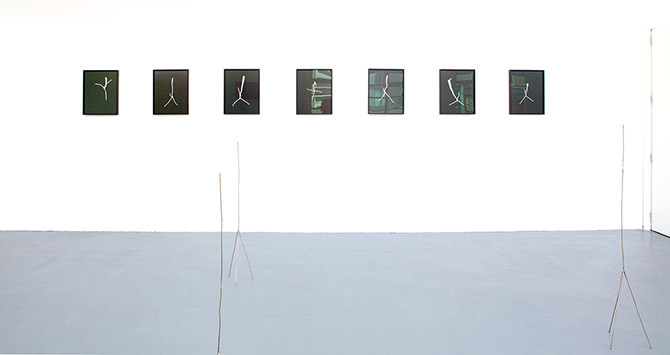 Terra Conductor: Judith Goddard

2014

Chandelier is pleased to present a solo show of new work in sculpture, video and photography by British artist Judith Goddard.

Goddard is recognised for her pioneering work in video in the
early 1980s, and has since extended her practice to film and installation to critical acclaim. She has exhibited and screened work at the British Film Institute, Kettle's Yard, South London Gallery, Tate Modern, Tate Britain and Whitechapel Gallery, as well as internationally. This exhibition brings together sculpture, video and photography for the first time – as discrete entities rather than as part of a larger installation – and continues Goddard's investigative practice, which engages with conceptual art and visual perception.
In Terra Conductor, sculpture, the moving image and photographic works manifest focal points in two and three dimensional space, drawing our attention to the axis of the horizontal and vertical, both within landscape and the gallery, in lines marked out in bronze, photographic emulsion or moving images.

In the video work Lowest Point, Kati Thanda (Belt Bay), shot at the lowest point in Australia, we see a shimmering close-up of a salt-lake with a mirage in the distance, and in the work Wrap, a spider repetitively loops a cocoon of silk around its prey. The sculptures, Terra Conductors, are a collection of bronze, tripod-like structures with elongated uprights made from cast bronze rods. These works consider an axis point between physical and psychological space. The series Bronze Photograms use the sculptures to conduct light onto paper. The resulting unique photographic images are in focus only at the point where the form of a Terra Conductor and light strike the paper together: the upright of the sculpture creating a ghostly white shadow on the deepest black of emulsion. All these works consider the intersection of "site" and "sight", two concepts that further inform the artist's practice.

An essay by Kathy Noble accompanies the artist's work.


About the artist

Judith Goddard (b.1956) lives and works in London. The artist was shortlisted for the Max Mara Women's Art Prize in 2014. Recent exhibitions and screenings include Keywords: Art, Culture and Society in 1980's Britain, Tate Liverpool (2014), Film and Video After Punk, British Film Institute (2014), Rewind, Tate Modern, (2012); Rewind & Play, Light Box, Tate Britain, London (2010); The Undistributed Middle, South London Gallery (2012); 12 Shooters - An Esoteric Afternoon, South London Gallery (2007); Upside Down/Inside Out: 'Helen's Room', Kettle's Yard, Cambridge (2009); AV 08 Newcastle (2008); Analogue. Pioneering Artists' Video from the UK, Canada and Poland (1968–88), Tate Britain, London (2006); Mobile, Espace Landowski, Boulogne-Billancourt (2006); Cross Town Traffic, Apee Jay Media Gallery, New Delhi (2005); Tourism, online at Tank TV (2005); Wonderings, 47 Great Eastern Street, London (2005); Collage, Bloomberg Space, London (2004) and 100 Years of Artists Film and Video, Tate Britain, London (2004). Awards and commissions include Institute of Making, UCL (2014), Joanna Drew Travel Bursary and The Elephant Trust (2012) alongside numerous Arts Council England and British Council Grants.