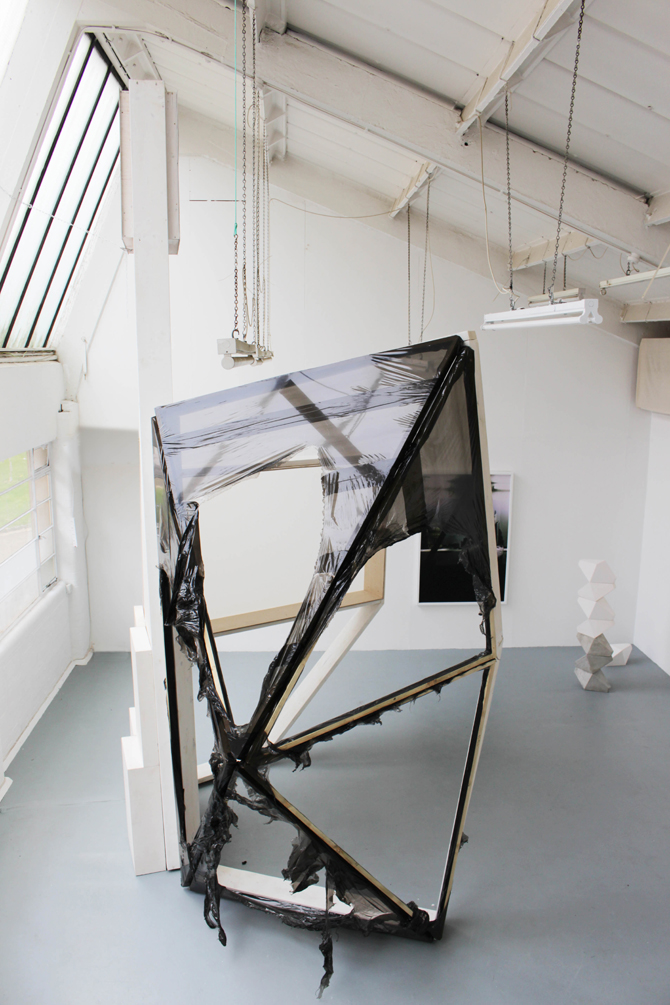 London Dust: Rut Blees Luxemburg and Keef Winter

2013

Chandelier is pleased to present an exhibition of new works by artists Rut Blees Luxemburg and Keef Winter.

The City of London is the physical manifestation of big capital; of world economic power. In sixty-storey buildings, various currencies are moved around digitally and fluidly. In this place, huge architectural and financial structures are envisioned, designed and built.

When planning a new building, the architects and developers utilise CGI's (computer-generated images) to announce and sell the proposed new, spectacular monuments. Full colour, several-metre wide CGI horizons containing luminous blue and golden, unusually rainless London skies are positioned on temporary walls in view of the passing public.

The final architectural realisation of these visions is, however, not always fulfilled. The Pinnacle in the City of London is one of those buildings. Designed to be 300 metres tall, it has stopped, for now, at a mere seven storeys: a failed object of an imcomplete dream, now represented here in its only reality as a CGI form, bathed in nocturnal yellow light; stained by the signs of the urban grind.

This exhibition investigates the building site's boundaries and
the relationship to the computer-generated visualisations that wallpapers them. Through a series of photographs and a film, Rut Blees Luxemburg examines the seduction of these images and their connections to the dusty entropy of the building materials and urban scenes that frame them. Keef Winter, referencing the contrasting qualities of this matter, responds to the urban materiality of the city, creating a viewing structure for Luxemburg's film and a unique sculpture simultaneously.

The exhibition is curated by Daniel C. Blight. An essay by writer and critic Douglas Murphy accompanies the artists' works.


About the artists

Rut Blees Luxemburg's (born 1967, Germany) large-scale works explore the public spaces of the city. She creates immersive and vertiginous compositions that challenge established perceptions of urban space and bring to light things that are overlooked, dismissed and unforeseen. Luxemburg's photographs have been exhibited internationally and are in many public collections including Tate Modern, the Art Gallery of New South Wales, Australia and the Centre Georges Pompidou, Paris. She is a Reader in Urban Aesthetics at the Royal College of Art.

Keef Winter (born 1980, N. Ireland) is an artist based in London. He works using a material language he calls the "Handyman Aesthetic", developed from a recently completed practice- based PhD at the University of Ulster. Winter's studio process generates abstract apparatus that reference urban dissonance. Often his structural installations directly respond to the space where exhibited. His work has recently been exhibited at Wysing Arts Centre, Cambridge; 3331 Arts Chiyoda, Tokyo and Temporary Arts Project, Southend-on-Sea. In 2013 he self-published a monograph entitled I Can Be Yours.