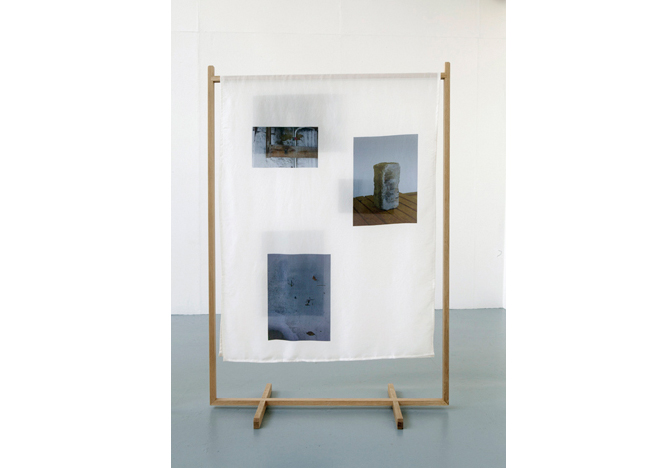 Jeremy Millar
2014

Chandelier is pleased to present a solo project of new works by British artist Jeremy Millar.

Millar's work is marked by history, and its 'afterlife' in the present day; how historic events, or places, might be activated in such a way that they become significant to us here and now. His works often develop from an object, person or place, and while these are often well-known or celebrated, his attention is often caught by something overlooked, a detail, an aside, that can become meaningful when given due attention. This is less an act of transformation, however, than a revelation of that which is already there.

It is this working with 'the propensity of things', to borrow a phrase from the French sinologist François Jullien, which lies at the heart of the new works created especially for this exhibition. Whether a length of antique French laundry ribbon, or a shade of Sennelier ink — neutral — from which Roland Barthes developed one of his most celebrated series of lectures, Millar allows the material to suggest how best it might be used, and how simply, too. Indeed, if the acts here are subtle — a matter of choice, display, or drawing out — then they remain real, and dependent upon the workings of the physical, for all their refinement. Indeed, even when, as part of a series of photographs, we see pictures of some of the most important objects in Western culture — the sundered rock at Golgotha, or the sexual folds of Freud's couch — it is their materiality that is emphasised rather than their meaning (this is further emphasised by the material presence of the photographs themselves, printed upon Habotai silk and hanging as large-scale panels as part of an oak-framed screen). Perhaps we might think of them with a slight, but important, difference, however, and allow that their meaning unfolds from their materiality.

With thanks to the Freud Museum, London.

An essay by Daniel C. Blight accompanies the artist's work.


About the artist

Jeremy Millar (b. 1970) is an artist living in Whitstable, and tutor in art criticism at the Royal College of Art, London. His recent solo exhibitions include The Oblate, Southampton City Art Gallery (2013); Resemblances, Sympathies, and Other Acts, CCA, Glasgow; and Mondegreen (with Geoffrey Farmer), Project Arts Centre, Dublin (both 2011); As Witkiewicz, Ethnographic Museum, Krakow (2010); Given, National Maritime Museum, London; and Projector, Ikon, Birmingham (both 2009–10); Plum Tree Blossom, Inverleith House, Edinburgh (2007). A solo exhibition will open in Museum Sztuki, Lodz, in spring 2014.

Recent group exhibitions include Curiosity: Art and the Pleasure of Knowing (curated by Brian Dillon), Turner Contemporary, Margate, then touring to Norwich and Amsterdam; The World is Almost Six Thousand Years Old (curated by Tom Morton), The Collection, Lincoln; and Mythographies (curated by Roy Brand), Yaffo23, Jerusalem (all 2013); The Future's Not What It Used To Be, Chapter, Cardiff; The Associates, Kettle's Yard, Cambridge; Membra Disjecta for John Cage, MQ, Vienna, then touring to DOX, Prague, and GVUO, Ostrava (all 2012); Never the Same River (Possible Futures, Probable Pasts) (curated by Simon Starling), Camden Arts Centre, London (2010–11); Sculpture of Space Age (curated by Raimundas Malasauskas), David Roberts Art Foundation, London; The Dark Monarch — Magic and Modernity in British Art (curated by Michael Bracewell, Martin Clark, and Alun Rowlands), Tate St Ives (both 2009).

He conceived Every Day is a Good Day for Hayward Touring, the largest exhibition to date of the visual art of John Cage, which opened at Baltic in June 2010, and has curated many exhibitions nationally and internationally, including The Institute of Cultural Anxiety — Works from the Collection, ICA, London, (1994); Speed, Whitechapel Art Gallery, and The Photographers' Gallery, London, (1998); and was co-curator, with Barbara London, of escape, Media_City Seoul (2000).

Millar has also written numerous catalogue essays and published in magazines and newspapers such as Frieze, Art Monthly, and The Guardian; his most recent book is The Way Things Go (Afterall Books, 2007) on the film by Fischli and Weiss.