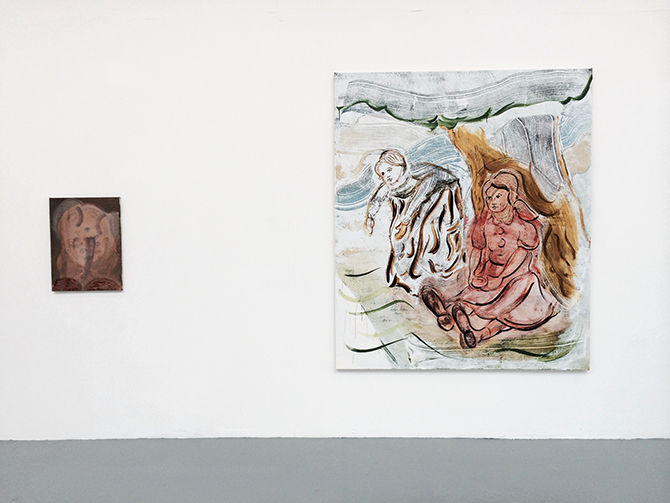 Holy Island: Grant Foster

2014

Chandelier is pleased to present Holy Island, a solo exhibition of new paintings and sculptures by British artist Grant Foster.

Holy Island borrows from the provincial traditions of British Romantic painting alongside a personal archive of tabloid newspaper photographs, children's illustration and advertising imagery. Foster offers a sardonic and often humorous swipe at the role of nationalism, religion and our commonly assumed cultural values. The exhibition presents a peculiarly British world: petty, vengeful, absurd and contradictory.

The child is a central motif in Foster's work, acting as an emblem of decency and morality. Revisiting the genre of British Romantic Painting as a site of pastoral morality, Foster deposits the child into the tabloid culture of today.

Stunted Growth couples a young jewel-like beauty pageant queen with the 1777 painting The Clavering Children by George Romney. Romney dresses the children in the adult clothes of the time, to suggest their aspiration and social standing. Foster draws a parallel between this uncanny repositioning of childhood into the extreme hyper-capitalist notion of the beauty pageant. Two seemingly different worlds united by the loss of childhood.

Rooted in Dada and Punk, Foster's sculptural works adopt an approach similar to his painting, remaining resolutely shabby; utilising materials such as cardboard, plaster, polystyrene and rubber. Provincial She Ra From the Seaside examines localised cultural stereotypes: a provincial glamour girl is re-presented as a grotesquely lacquered seaside games attraction, wearing a white frock complete with cone head.

Referencing Hieronymus Bosch, Goya and Philip Guston, Foster's cone heads talk lightly of isolation and the redundancy of spiritualism. Tapering upwards to form an inverse funnel, cut off from the heavens and bereft of God, the figures gorge themselves on ice cream and celebrity gossip magazines.

An essay by writer Lorena Muñoz-Alonso accompanies the artist's work.


About the artist

Grant Foster graduated from the Royal College of Art in 2012 and lives and works in London. Solo exhibitions include 'The Walnut Tree', Chinashop, Oxford, 2013; 'Mute and Impotent Before the Boot', Post Box Gallery, London, 2009. Selected group exhibitions include 'East London Painting Prize', Strand East, London, 2014; 'Rx For Viewing' (with Jesse Wine), Ana Cristea Gallery, New York, 2014; 'Art Britannia' Miami, USA 2013; 'Bloomberg New Contemporaries 2013' UK, 2013; 'Painting Show, Winter Projects, London, UK, 2013; 'Implausible Imposters', Ceri Hand Gallery, London, 2013, 'Creekside Open', APT Gallery, London, 2013; 'The Harboured Guest', 4 Windmill street, London, 2012; 'Show RCA', Royal College of Art, London, 2012; 'Backwards Man', CPG, London, 2012; 'Memory of a Hope', Ceri Hand Gallery, Liverpool, 2011; 'Polemically Small', Torrance Art Museum, Torrence, CA, 2011; 'Hello Paradise', Kinsgate Gallery, London, 2011. Grant Foster was a prizewinner in the 2008 John Moores Painting Prize.